THE WORLD OF ICE & FIRE
By George R.R. Martin, Elio Garcia 
and Linda Antonsson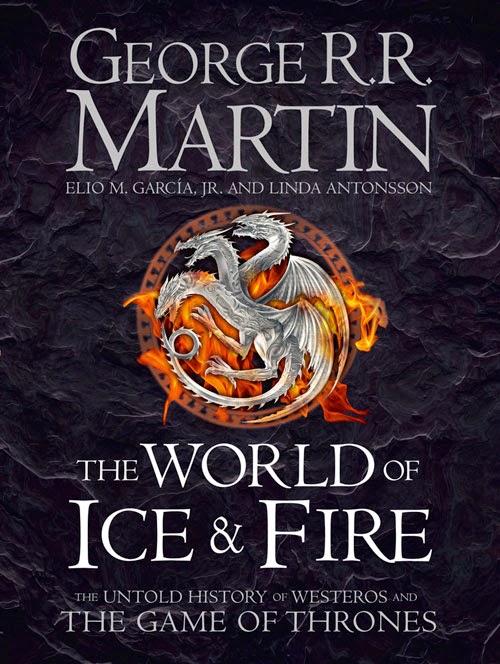 If the past is prologue, then George R. R. Martin's masterwork-the most inventive and entertaining fantasy saga of our time-warrants one hell of an introduction. At long last, it has arrived with The World of Ice and Fire.
This lavishly illustrated volume is a comprehensive history of the Seven Kingdoms, providing vividly constructed accounts of the epic battles, bitter rivalries, and daring rebellions that lead to the events of A Song of Ice and Fire and HBO's Game of Thrones. In a collaboration that's been years in the making, Martin has teamed with Elio M. Garcia, Jr., and Linda Antonsson, the founders of the renowned fan site Westeros.org-perhaps the only people who know this world almost as well as its visionary creator. Collected here is all the accumulated knowledge, scholarly speculation, and inherited folk tales of maesters and septons, maegi and singers.
It is a chronicle which stretches from the Dawn Age to the Age of Heroes; from the Coming of the First Men to the arrival of Aegon the Conqueror; from Aegon's establishment of the Iron Throne to Robert's Rebellion and the fall of the Mad King, Aerys II Targaryen, which has set into motion the "present-day" struggles of the Starks, Lannisters, Baratheons, and Targaryens. The definitive companion piece to George R. R. Martin's dazzlingly conceived universe, The World of Ice and Fire is indeed proof that the pen is mightier than a storm of swords.
________________________________________________________
What needs to be said about this one? Any fan of made up history (Hello! Guilty as charged), and/or A Game of Thrones, is going to devour this history of Westeros and the lands beyond.
The World of A Game of Thrones is staggering in its scope and as rich and complex as the events of the War of the Roses, as treacherous as Imperial Rome and could chew the Borgias' up and spit them out without breaking a tooth.
This compendium work contains full colour artwork and maps, detailed family trees, new material that gives in-depth explorations of the history and culture of Westeros, half of which Martin has written for this book specifically.
It is the definitive companion to this masterwork of modern fantasy fiction and perfect for fans of the books and the TV show.