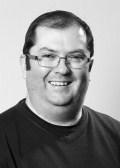 Mark Timmony was born in Sydney, Australia. Never much a sporty child, Mark had a keen interest in reading and was an enthusiastic member of the book club at school. But he didn't discover fantasy fiction (outside of children's and YA books) until he found The Dragons of Autumn Twilight by Margaret Weis and Tracy Hickman in the school Library.
From there, Mark embarked on to the works of Terry Brooks, David Eddings, Raymond E. Feist, Anne McCaffrey, Frank Herbert, and of course, Robert Jordan.
As an avid reader of science fiction and fantasy, Mark worked for a number of years as a genre specialist bookseller in Sydney. During this time he met many Australian fantasy authors – Karen Miller, Tony Shillitoe and Jennifer Fallon, to name a few – and he even had the honour of being a beta-reader for a number of them. This unique position offered him a glimpse 'behind the scenes' of novel writing, and went a long way in giving him hands on experience in story structure, character development and worldbuilding, as well as offering insights into the business side – publishing and retail – of writing.
When Mark isn't reading, or writing, he's likely working at Australia's local bookstore (or playing World of Warcraft).