Three titles have popped up on my radar for next year. There are obviously more than three titles that I am eagerly awaiting (hello Oracle, House Wars Book 5 by Michelle West AND [hopefully] Destiny's Conflict by Janny Wurts)  but I've just seen covers for these ones and I am excited!
Brian Staveley was for me, the standout debut in 2014. I cannot wait for book two in this brilliant new epic fantasy series, I truly hope it lives up to the wonder of book one The Emperor's Blades.
The Providence of Fire
Chronicle of the Unhewn Throne Book Two
By Brian Staveley
War is coming, secrets multiply and betrayal waits in the wings… The Annurian Empire's ruling family must be vigilant, as the conspiracy against them deepens. Having discovered her father's assassin, Adare flees the Dawn Palace in search of allies. But few trust her, until she seems marked by the people's goddess in an ordeal of flame.

As Adare struggles to unite Annur, unrest breeds rival armies – then barbarian hordes threaten to invade. And unknown to Adare, her brother Valyn has fallen in with forces mustering at the empire's borders. The terrible choices they face could make war between them inevitable.

Fighting his own battles is their brother Kaden, rightful heir to the Unhewn Throne, who has infiltrated the Annurian capital with two strange companions. While imperial forces prepare to defend a far-distant front, Kaden's actions could save the empire, or destroy it.
Book one of Peter Orullian's Vault of Heaven, The Unremembered came out sometime ago, unfortunately it didn't grab me in quite the way I had hoped, for various reasons. However having read his short stories set within the same world, in particular Sacrifice of the First Sheason, my understanding of just where he is coming from has completely changed and I looking forward to seeing where he take the series.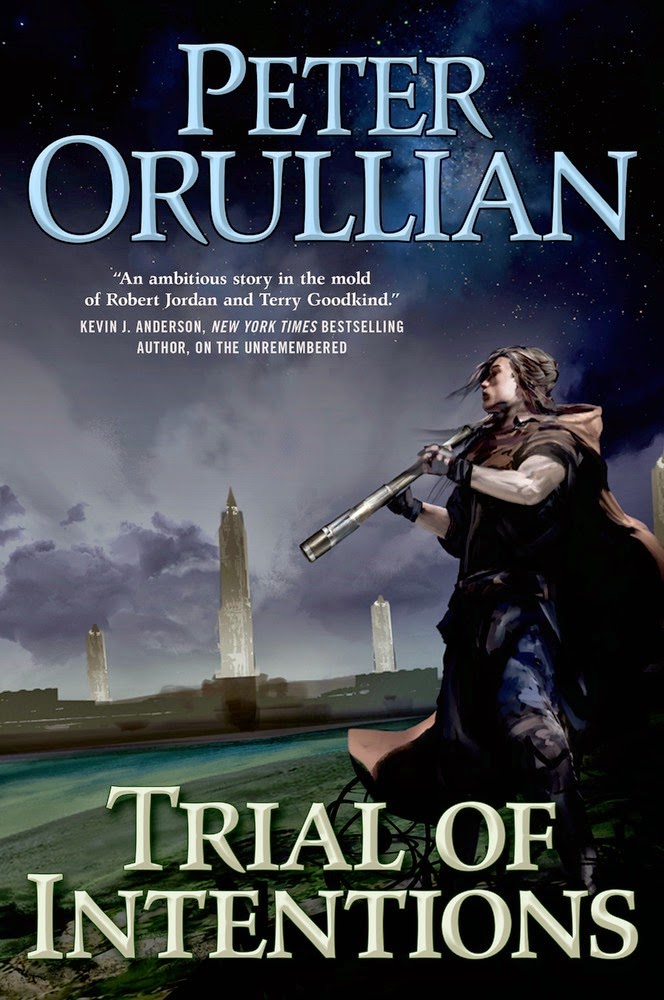 Trial of Intentions
Vault of Heaven Book Two
By Peter Orullian
The gods who created this world have abandoned it. In their mercy, however, they chained the rogue god — and the monstrous creatures he created to plague mortalkind — in the vast and inhospitable wasteland of the Bourne. The magical Veil that contains them has protected humankind for millennia and the monsters are little more than tales told to frighten children. But the Veil has become weak and creatures of Nightmare have come through. To fight them, the races of men must form a great alliance to try and stop the creatures.

But there is dissent. One king won't answer the call, his pride blinding him even to the poison in his own court. Another would see Convocation fail for his own political advantage. And still others believe Convocation is not enough. Some turn to the talents of the Sheason, who can shape the very essence of the world to their will. But their order is divided, on the brink of collapse.

Tahn Junell remembers friends who despaired in a place left barren by war. One of the few who have actually faced the unspeakable horde in battle, Tahn sees something else at work and wonders about the nature of the creatures on the other side of the Veil. He chooses to go to a place of his youth, a place of science, daring to think he can find a way to prevent slaughter, prevent war. 

And his choices may reshape a world…
I first came across Mr Polansky when his debut, The Straight Razor Cure, was released in 2011. Unfortunately I got side-tracked finishing the book and only just picked it back up when I saw the cover for this new one. And boy I am glad I did. The Straight Razor Cure is brilliant and I will be reading books 2 and 3 in the trilogy very soon while I wait for this new one.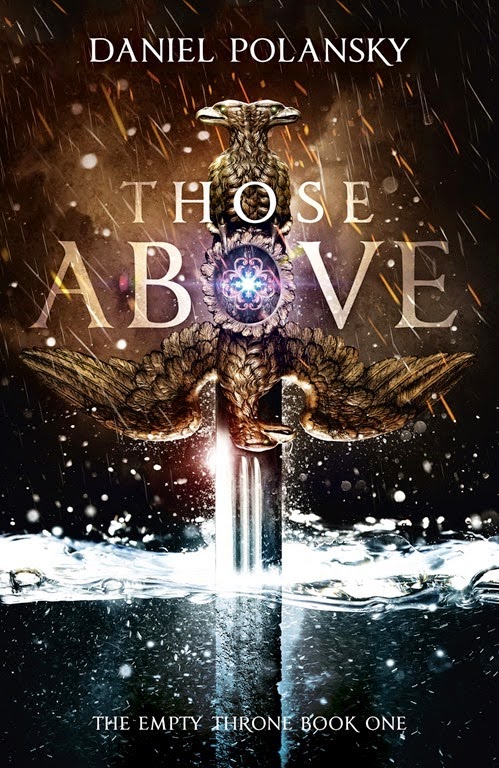 Those Above
The Empty Throne Book One
By Daniel Polansky
The first in an explosive new epic fantasy series by Daniel Polansky, perfect for fans of Joe Abercrombie and Mark Lawrence.
They enslaved humanity three thousand years ago. Tall, strong, perfect, superhuman and near immortal they rule from their glittering palaces in the eternal city in the centre of the world. They are called Those Above by their subjects. They enforce their will with fire and sword.

Twenty five years ago mankind mustered an army and rose up against them, only to be slaughtered in a terrible battle. Hope died that day, but hatred survived. Whispers of another revolt are beginning to stir in the hearts of the oppressed: a woman, widowed in the war, who has dedicated her life to revenge; the general, the only man to ever defeat one of Those Above in single combat, summoned forth to raise a new legion; and a boy killer who rises from the gutter to lead an uprising in the capital.

Those Above is the first of an extraordinary new fantasy epic by the author of the acclaimed Low Town series that will sweep the reader into a wholly alien, wholly recognizable world of rebellion and revenge, of love and of death, of intrigue and pitiless war.