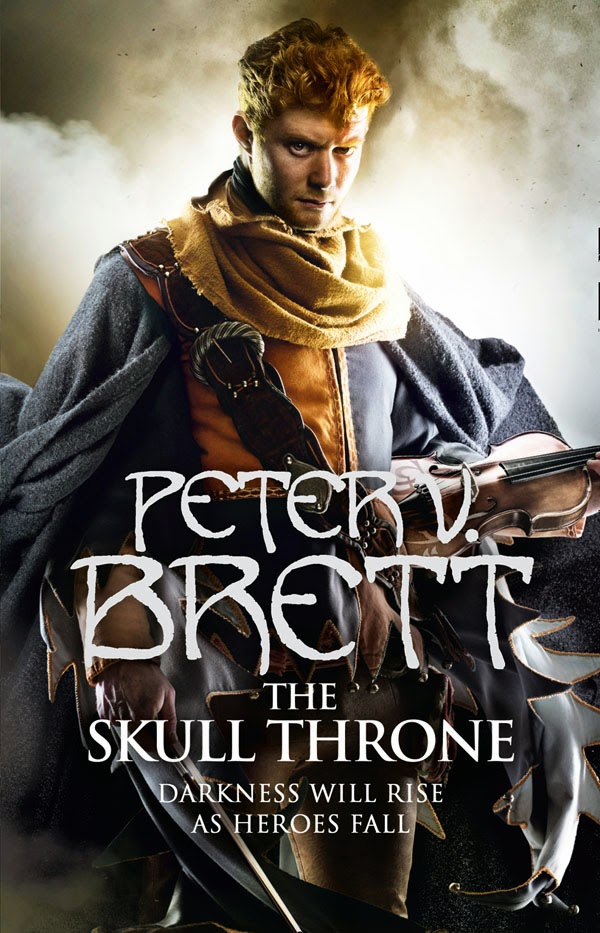 I cannot adequately express how desperately I have been waiting for this book. The Skull Throne is the fourth volume of the series, The Demon Cycle, by Peter V. Brett, one of my favourite authors. If you have not yet read the preceding three books, go and order book one, The Painted Man, now.
Brett has created a powerful saga that depicts mankind winnowed to the brink of extinction by night-stalking demons, the survivors who fight back and the prophecy of the Deliverer who will lead them. With one book, his first, Brett strode to forefront of modern fantasy writers to stand alongside the likes of Robert Jordan, Joe Abercrombie and Elizabeth Moon . Crafting a fantasy that leaps off the page and into hearts and minds, he has given us one of the most significant epics since the Wheel of Time.
The Skull Throne begins immediately after the shocking conclusion of The Daylight War , with both sides searching in vain for their 'fallen' warriors before retreating to regroup. Inevera immediately begins to spin her webs, desperate to retain the power she has painstakingly built with Jadir. Meanwhile, their sons begin to vie for leadership of their people and control of his armies while Leesha, pregnant with Jadir's child, is called back to Angiers and Rojer, faces Jasin, the man who murdered his mentor.
 
The Skull Throne is packed with action and adventure, politics, intrigue and exciting character development, not to mention demons and runic magic. You cannot miss this book, or this series.