I've been meaning to write about this for some time, and to read more of the authors who have been nominate and made it to the top ten. But the best laid plans of mice and men… In any case, here are the top 10 finalists in the SPFBO 2019.
What is SPFBO? Chances are, if you primarily buy your books from bookshops you might not have heard of the Self Published Fantasy Blog Off competition. Basically the SPFBO has been operated since 2015 by the author Mark Lawrence. He distributes about 300 novels submitted by the authors to ten fantasy bloggers to review. Each blogger selects a finalist, which is then reviewed by all ten bloggers. The winner is the finalist with the highest average review score.
It's a great way for self published authors to gain some exposure, and some of them have gone on to achieve the dream of moving into rarefied heights of traditional publishing because of this exposure.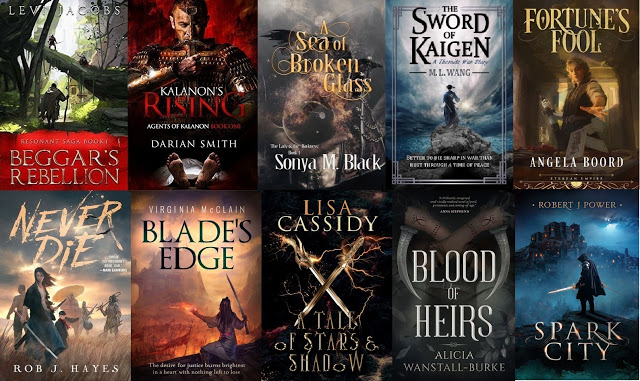 This year our finalists (from the 300 submitted) are:
Blood of Heirs (The Coraidic Sagas Book 1) by Alicia Wanstall-Burke.
This one I have read! But, ummm, for some reason I didn't put a review up here, just on Goodreads. Sigh.
Fortune's Fool (Eterean Empire Book 1) by Angela Boord
I own this! I juts need to push it up my 'TBR' pile.
The Sword of Kaigen: A Theonite War Story by M. L. Wang
I have heard such good things about this one that I went and bought it, now I need to read it.
A Tale of Stars and Shadow by Lisa Cassidy
Kalanon's Rising (Agents of Kalanon Book 1) by Darian Smith
Never Die: A Mortal Techniques novel by Rob J. Hayes
Beggar's Rebellion (Resonant Saga Book 1) by Levi Jacobs
Blade's Edge (Chronicles of Gensokai Book 1) by Virginia McClain
A Sea of Broken Glass (The Lady & The Darkness Book 1) by Sonya M. Black
Spark City (The Spark City Cycle, Book 1) by Robert J. Power
The remaining books I have not read, nor do I own. I must admit (if you have not already noticed) that I tend to go for big, epic fantasy novels. However, I have felt – more a d more – that less authors are writing the type of novel I want to read. Where that is simply the inevitable change of style in the way these stories are told, or that tastes have changed I don't know.
What I do know is, this list here could be a good place to find some new favourites. Imma gonna have to get reading.