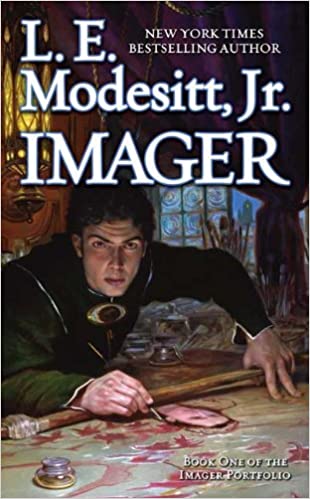 Imager
The Imager Portfolio Book 1
By L.E. Modesitt, Jr.
Although Rhennthyl is the son of a leading wool merchant in L'Excelsis, the capital of Solidar, the most powerful nation on Terahnar, he has spent years becoming a journeyman artist and is skilled and diligent enough to be considered for the status of master artisan—in another two years. Then, in a single moment, his entire life is transformed when his master patron is killed in a flash fire, and Rhenn discovers he is an imager—one of the few in the entire world of Terahnar who can visualize things and make them real.
Rhenn is forced to leave his family and join the Collegium of Imagisle. Because of their abilities (they can do accidental magic even while asleep) and because they are both feared and vulnerable, imagers must live separately from the rest of society. In this new life, Rhenn discovers that all too many of the "truths" he knew were nothing of the sort. Every day brings a new threat to his life. He makes a powerful enemy while righting a wrong, and he begins to learn to do magic in secret. Imager is the innovative and enchanting opening of an involving new fantasy story.
512 pages
Published by Tor Books
Published on February 1, 2010
Author's webpage
Buy the book
I originally read this book when it first came out. I recall liking it, as I do most of Modesitt's work, but didn't recall a lot about it so it was re-read time.
Modesitt has a steady style that pulls the read along in its wake, and is very different to many other writers in the genre field today. His worlds are always meticulously built and his stories well fleshed out with vibrant characters and a lot of research that often finds its way into the everyday conversations that are related in the book.
I found this book fascinating, from the discussions on portrait painting and art, to the insights into the running of governments and the details of this new and unique magic system. It was thoroughly engaging, as was it's main character, a would-be portrait painter who discovers he is an Imager.
There is no great urgency in this novel yet it moves with pace and precision and drive and I couldn't put it down.
I highly recommend it for any fans of Modesitt's Recluce series, or for fantasy lovers who want something different to the regular epic fantasy fare.