A bit of a flashback review here. I've recently 're-read' this book on audio and was inspired. Janny Wurts is one of my top 5 favorite authors ever.
Master of Whitestorm
By Janny Wurts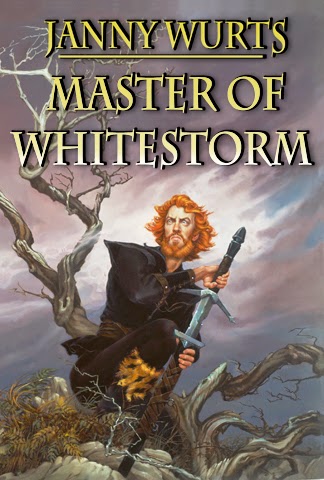 Korendir's name was the stuff of legend …
Man of mystery … deadly mercenary … obsessed adventurer …
From a life of misery, chained as a galley slave under the whips of the marauding Mhurgai, Korendir contrived an escape against impossible odds, only to gamble his hard-won freedom against ever more deadly stakes—in a world endangered by elementals, shape-changers, demons and perilous wizardry. Even Haldeth, fellow captive at the oar and his only accepted friend, can not understand what drives Korendir to repeated risk. But the hazardous tasks serve a madman's hope, to build an unbreachable citadel.
Yet, can any fortress wall be enough to disarm the inner nightmares that ride the Master of Whitestorm with the cruelty of a death-wish?
_______________________________________________________
In the words of Stephen R. Donaldson Janny Wurts is 'a gifted creator of wonder'. Not one to follow a well-trodden path of tropes, Wurts blazes new trails with her stories and always, always links them irrevocably with human resilience and spirit. The Master of Whitestorm is a standalone novel of towering brilliance, each chapter revealing layers and startling depth and a clear and natural unfurling of story that is as thrilling for its surprises as it is for how all the pieces fit together.
Janny Wurts is one of the most lyrical writers I know and her brilliance with word choice and naming is close to unmatched. Words are chosen and sentences constructed precisely and with the care of a painter (which she is also) choosing colours to create a visual masterpiece. While Wurts' storytelling demands an investment of time and concentration, the payoff is always worth it.