Fantasy author James Clemens is back writing fantasy, but under his more successful brand name, James Rollins.
I posted about this back in 2020 – you can read that post here.
It's safe to say that I was excited that James Clemens is back with a new fantasy. Sorry, James Rollins is back.
I loved his series The Banned and the Banished, and I was very annoyed when he stopped writing The Godslayer series at book 2 because the Rollins brand (adventure fiction) took off. And that was something like eighteen years ago now.
So now he's finally back, and I hate to say it, but I'm a bit underwhelmed. I'm not sure if it's me who has changed, my experience of reading and what I am looking for these days, or if it's just that Clemens/Rollins writing has changed over the years – which is a reasonable to expect.
But, yeah. The Starless Crown is not doing it for me the way I had hoped.
I'm at about 43% through atm, and I'll keep going, but it's a bit of struggle for me and I'd hoped to fly through it.
Maybe it's a good thing that he didn't use the name James Clemens, maybe it's my expectation of a new Clemens novel that is the source of my disappointment. Maybe this is just what Rollins fans are after and used to reading. I don't know, and I have little interest in reading the Rollins adventure novels so I guess I'll never find out.
Have you read The Starless Crown? What did you think?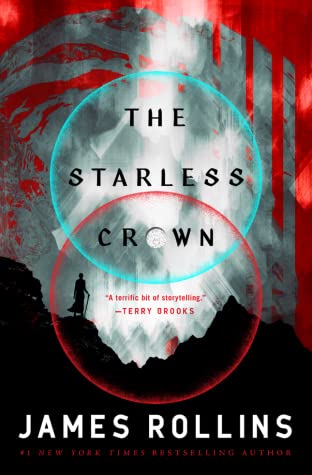 The Starless Crown
Moonfall Book One
By James Rollins
An alliance embarks on a dangerous journey to uncover the secrets of the distant past and save their world in this captivating, deeply visionary adventure from #1 New York Times bestselling thriller-master James Rollins.
A gifted student foretells an apocalypse. Her reward is a sentence of death.
Fleeing into the unknown she is drawn into a team of outcasts:
A broken soldier, who once again takes up the weapons he's forbidden to wield and carves a trail back home.
A drunken prince, who steps out from his beloved brother's shadow and claims a purpose of his own.
An imprisoned thief, who escapes the crushing dark and discovers a gleaming artifact – one that will ignite a power struggle across the globe.
On the run, hunted by enemies old and new, they must learn to trust each other in order to survive in a world evolved in strange, beautiful, and deadly ways, and uncover ancient secrets that hold the key to their salvation.
But with each passing moment, doom draws closer.
WHO WILL CLAIM THE STARLESS CROWN?