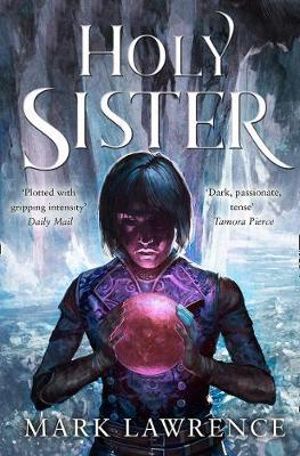 Holy Sister
Book of the Ancestor, Book 3
By Mark Lawrence
They came against her as a child. Now they face the woman.
The ice is advancing, the Corridor narrowing, and the empire is under siege from the Scithrowl in the east and the Durns in the west. Everywhere, the emperor's armies are in retreat.
Nona faces the final challenges that must be overcome if she is to become a full sister in the order of her choice. But it seems unlikely that Nona and her friends will have time to earn a nun's habit before war is on their doorstep.
Even a warrior like Nona cannot hope to turn the tide of war.
The shiphearts offer strength that she might use to protect those she loves, but it's a power that corrupts. A final battle is coming in which she will be torn between friends, unable to save them all. A battle in which her own demons will try to unmake her.
A battle in which hearts will be broken, lovers lost, thrones burned.
I love, love, love Mark Lawrence and have since the first day I read Prince of Thorns in 2010. This trilogy cements that for me – which some of you might find strange as it is not a 'doorstop' sized epic. But it is – and that might be a lesson for me – because even though the Trade Paperback edition only came in at just over 330 pages, it was packed full of battles and revelations as Lawrence confidently directs his reader through the last book of Nona's journey.
Part sci-fi, part fantasy (much like The Broken Empire trilogy/setting) Lawrence hints at so much history and back story that he could very well have written a book twice the size and a story that lasted many volumes more. But as he has noted in the past, that's not the type of writer he wants to be – and props to him for that (although he does write doorstops if the story warrants it) regardless of my own preferences – but he doesn't have to.
Lawrence has a style that grips your attention utterly and keeps you on the edge of your seat. Just when you think the story is going one way, he shifts direction and you drags you along another thread. His magic systems are brilliant and I love how he binds them with science – unlike some writers who do this, it is not a magic by numbers offering, but leans on the more 'mystical' theories of quantum mechanics offering something truly unique yet oh so familiar.
Holy Sister is a satisfying conclusion to the Book of the Ancestor trilogy (if trilogy it is, his next book from HarperCollins looks to be set in the same world) and one you are sure to devour. I enjoyed every second in this world and would love to spend more time in the corridor and the amongst the twisting politics of the noble Sis.