Today I completed my Blog Tour with Storytellers On Tour.
What a fantastic event! A huge thank you to Justine and Timy for hosting the tour, and to all the roadies who took part.
Over the last week The Blood of the Spear has appeared on the following blogs and bookstagrams and received some fantastic reviews! I have literally been grinning all week 😀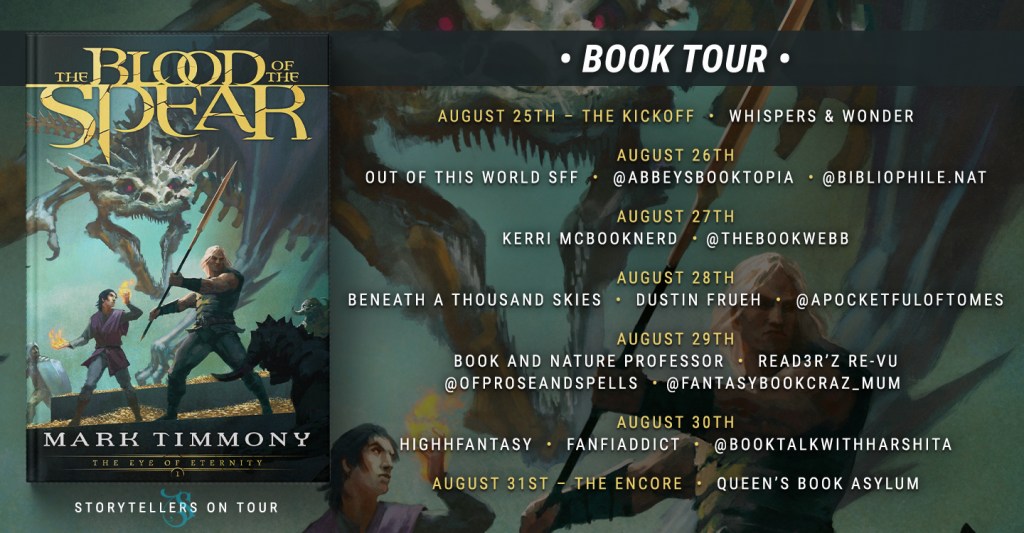 On August the 25th I visited Whisper & Wonder for an interview and IG Spotlight @whisperandwonder
On the 26th I visited:
Out of This World SFF for a review. Nick had this to say (amongst other things):
"If you enjoy fantasy with intriguing ancient prophecies, engaging characters, deep world-building, and magical artifacts, then you should pick up THE BLOOD OF THE SPEAR and give it a go. This was an entertaining journey that I'm so grateful that I took and I look forward to seeing where this story goes in future books. Put this one on your TBR, you won't be sorry!"
@abbeysbooktopia for a review and spotlight. Abbey had this to say:
"…the action sequences were so epic and felt really intense which I loved!"
And @bibliophile.nat for an interview and spotlight.
On 27th I visited:
Kerri McBookNerd – and she reviewed BotS:
"If you enjoy epic fantasy, if you love a rich and complex world filled with prophecies, daemons, and action, I think you would enjoy The Blood of the Spear!"

And I visited @thebookwebb – she said:
"This book took me back to the old style classic fantasy, that I love. Very reminiscent of The Wheel of Time series, this book is destined to become part of an amazing epic fantasy series."
On the 28th I visited:
"You should definitely be adding this to your TBR if you love detailed, organic worldbuilding and epic character-driven fantasy, and want to be swept along by some truly fantastic writing."
"My favorite in this book is the characters. They are relatable and flawed. So many amazing and competent female characters, too. Everyone's distinct and has their own motivation. I'M SO INVESTED IN THEM."
On the 29th you could find me at:
Book and Nature Professor and @bookandnatureprof :
"The characters were well developed, the prose was excellent, and the world building was on par with the best of the genre." "I highly recommend it and I eagerly await the next book."
@read3rz_revu for an IG spotlight!
@ofproseandspells for a review and IG spotlight:
"Loaded with incredible action scenes, excellent ancient magic and world building, and well-crafted characters, this book pierces one's interest from the beginning to the end."

@fantasybookcraz_mum for a review and IG spotlight:
"This is definitely a promising new fantasy series with brilliant characters, magical and fantastic world building. I can not wait to see where the story goes next."
On the 30th I stopped by:
FanFiAddict – you can read an excerpt of the prologue there! And you can read Blaise's review here.
@booktalkwithharshita for another review and spotlight:
"This book was a very well paced, action filled fantasy debut novel with an amazing relationship between two brothers."

And on the 31st I ventured into Queen's Book Asylum for an interview!