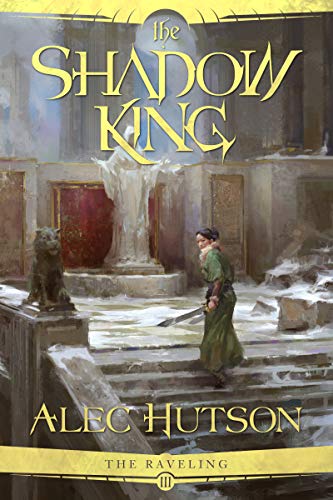 The Shadow King
The Raveling Book 3
By Alec Hutson
Scarred by what transpired on the island of the sorceress Niara, Keilan and his companions journey north, bearing a weapon forged to end the unnatural existence of the Chosen. But the sand is trickling through the hourglass, as the demon-children are laboring to bring about a second Raveling and end the age of man . . .
In the shattered city of Nes Vaneth, Cho Lin struggles to survive her imprisonment by the vicious Skein, while in Dymoria the Crimson Queen prepares to reveal her school of sorcerers by bringing them into the Frostlands to confront the Chosen and their allies . . .
Meanwhile, the immortal sorceress Alyanna schemes to restore her lost glory and destroy those who have wronged her . . .
506 pages
Published by Alec Hutson
Published on November 23, 2019
Author's webpage
Buy the book
A great conclusion to this debut trilogy by one of my favorite new fantasy authors.
I really wasn't sure how Hutson was going to wind up all the various threads he'd begun weaving over books 1 and 2. And to be honest I like series – long series. I like to sink my teeth into epic fantasy worlds and live with the characters and explore the story and world building for some time. But wind up all the reads Hutson did. Well, the main ones 😉
This is a rip-roaring yarn of a novel. Alive with vibrant world building and crafted with a powerful vision and strong writing, Hutson has fill this book with action as the reader is swept along towards the final chapter. I found my self reading great chunks of the novel and often wanting to continue when I had to put the book down, leaving me very eager to pick it back up again.
I hope that Hutson continues to write in this world. I want more of Keilan's journey, and Cho Lin's – amongst others. I certainly feel there is more story to tell; and it was hinted at in the epilogue.
For the inevitable comparisons, if you enjoy Robert Jordan, Brandon Sanderson and Peter V. Brett, then give Alec Hutson a try. You won't regret it.