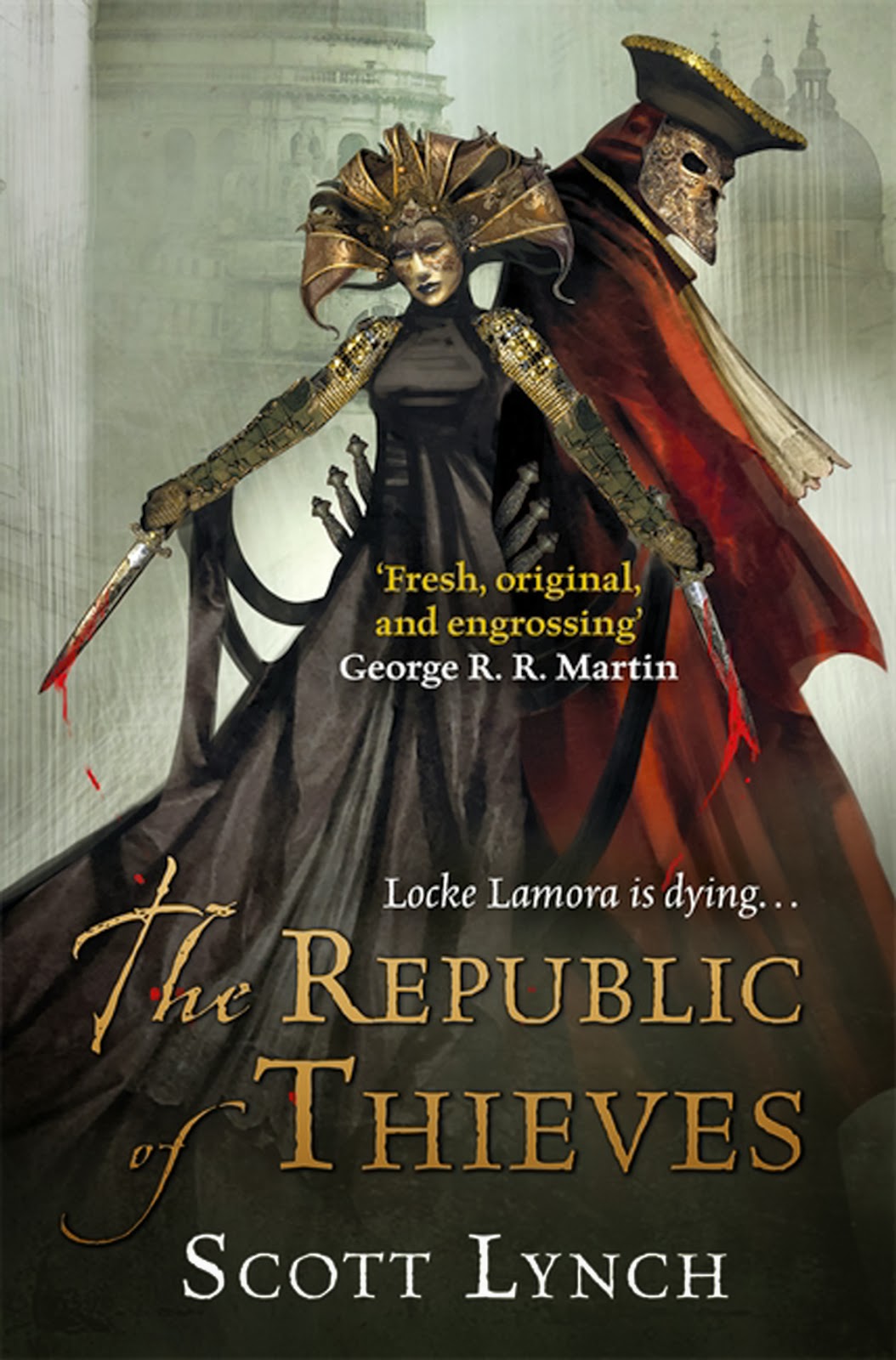 THE REPUBLIC OF THIEVES
The Gentleman Bastard Sequence Book 3
by Scott Lynch
After their adventures on the high seas, Locke and Jean are brought back to earth with a thump. Jean is mourning the loss of his lover and Locke must live with the fallout of crossing the all-powerful magical assassins the Bonds Magi.

It is a fall-out that will pit both men against Locke's own long lost love. Sabetha is Locke's childhood sweetheart, the love of Locke's life and now it is time for them to meet again. Employed on different sides of a vicious dispute between factions of the Bonds Sabetha has just one goal – to destroy Locke for ever.
____________________________________________________________
This has to have been one of the books I have been most excited to get my hands on this year. Fans around the world have been patiently waiting for the next instalment of Locke and Jean's adventures. From the get-go Lynch established himself, on the strength, flair and originality of his work, as a name that rested quite comfortably in the same echelon as George R.R. Martin.
Lynch has a gift for creating a vibrant, neon-lit world full of epic grandeur and poignant decay. He sweeps the reader across pages of action, intrigue and adventure, teasing the long-con (or in some cases not so long) out of hundreds of pages before the always thrilling and always significant twist that is the grand reveal at the end. He is one of the few writers who mixes an equal amount of swash-buckling adventure with cerebral plotting and character interaction.
Brilliantly picking the plot up from where he left us hanging at the end of Red Seas Under Red Skies , Locke and Jean find that the reach of the Bondsmagi is as long and as encompassing as folk lore would have us believe and their actions in The Lies of Locke Lamora truly come home to roost in this book. As does the often mention but never seen love of Locke's life – the strong, beautiful and razor sharp, Sabetha.  
Much like the vaunted alchemists of his world Lynch mixes a cocktail of back story inbetween seat-of-your-pants paced life or death scenarios that leave you breathless in your chair and sleep deprived as you burn the midnight oil to find out 'what happens next!'. And the finale of this tale, while not the cliff-hanger of Red Seas, opens things up in a way you won't see coming, and will not disappoint!