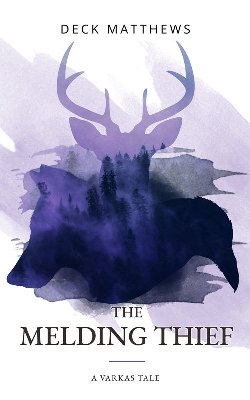 The Melding Thief
The Varkas Chronicles – Short Tales 2
By Deck Matthews
Kelven Strall thought he'd left the life of thievery behind him. Now he's dying. The black lung ravages his body, and with two young daughters to think of, he makes one last theft. Pursued by the hunters of the Stone Seat, he flees toward home and what's left of his life—until a chance encounter with the magus known as the Ravenwalker.
He offers Kelven a deal. One last job, in exchange for the Ravenwalker's help. All he needs to do is sneak the magus into the castle of a rogue sorcerer.
38 pages
Published by Echo Enduring Media
Published on November 09, 2018
Author's webpage
Buy the book
I purchased this book.
This morning I sat down and read The Melding Thief, the second story in Deck Matthews world of the Varkas Chronicles – Short Tales.
I enjoyed it just as much as I did the first, In The Tower of the Witching Tree. Matthews is building an intriguing fantasy world that really want to spend a lot more time in. World building is as big a thing for me as good writing and Deck Matthews is excelling at both for me. It is a short tale so I can't really talk about the plot without giving too much away, but I while thoroughly enjoyed it all I found the final scene to be beautifully written.
I'm very eager to get my hands on his novella – and am dying for a full length novel. Again Deck Matthews writing is ideal for fans of Brooks, Weeks and Sanderson.