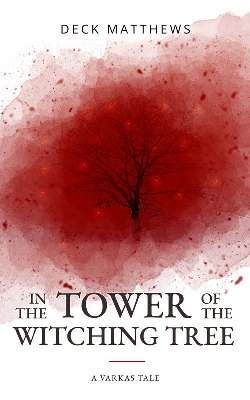 In the Tower of the Witching Tree
Varkas Chronicles – Short tales Book 1
By Deck Matthews
Shade is a master of the confidence game.
But when her latest play falls apart, forcing her to flee from the local guards, Shade finds herself climbing through a window at the top of a mysterious tower. What she finds waiting for her will draw into an entirely different sort of game—and force her to confront the pain and loss of her own past.
Published by the author
Published on September 2, 2018
Author's webpage
Buy the book
I purchased this book.
I came across Deck Matthew's via Instagram on his account @varkaschronicles. He has a great account there, with loads of artistic pics of books – most of which I've read and loved, and sketches of characters from his own work as well as maps!
I was intrigued, and promptly stalked followed.
Then he put up a sample of a forthcoming novella on his website. I read it. I was hooked. Pre-order done, I decided I would also give his two short stories ago and today I read the first.
I don't normally read short stories, I just don't get them. I want something I can sink my teeth into and stay with it for a week or so. That I actually bought two of them, from an author I had never read before, was saying something.
I loved 'In the Tower of the Witching Tree'. It is a quick read, but full of life and vivid world building. Combination adventure story/cautionary tale, it follows the thief, Shade, as she enters what she thinks is an ordinary tower, looking for a place to hide from the constables who are chasing her.
I really can't tell you more about it without giving things away, but Matthews is building a world I really want to find out more about. And hopefully see Shade in some future tales (or novels perhaps?).
If you enjoy works by Sanderson, Abercrombie, Brooks or Salvatore then Deck Matthews is definitely a writer to watch (and read!).