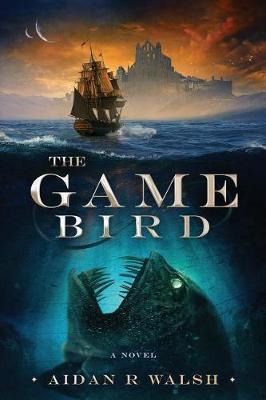 The Game Bird
By Aidan R Walsh
An evil is growing. The Realm is under attack. A leviathan has risen from the depths and is destroying the fleets that feed Stormhaven.

Stuck ashore and drowning in debt, Captain James Faulkner resolves to hunt the sea monster and claim the enormous bounty on the beast.

Sophia Blake's life looks effortless. But she carries a secret, an occult curse that is capable of destroying both her and her nation. Sophia knows her time is running out.

The Tallowman is a slowly decaying melding of demon and man. This monstrous assassin is desperate to capture Sophia and will let nothing stand between it and its prey.

As these hunts build to their shattering conclusion, Faulkner and Sophia will be thrown together and forced to confront malevolent forces beyond their imagining. The Game Bird is a swashbuckling black powder fantasy, wrapped around a spine of darkness.
404 pages
Published by Aidan R Walsh
Published on April 3, 2018
Author's webpage
Buy the book
I purchased this book.
In his debut novel The Game Bird, Aussie author Aidan R Walsh dispenses with the more traditional medieval type setting of most fantasy novels and sets his tale upon the bones of a Regency England stage. I was – at first – concerned this setting would overwhelm the understanding that the book is not, in fact, set on earth. It didn't. With a sure hand belying the fact that this is his first novel, Walsh allows the story and characters to tell his tale in such a way that while there is a feeling of familiarity to the world, it is very much his own creation.
Set in the city of Stormhaven, and the seas that surround it, The Game Bird tells the tale of Captain James Faulkner, a semi-retired war hero down on his luck since the last war ended and the Kingdom put many of its navy personnel on half-pay. Looking for a solution to pay off his enormous debt he decides to try his luck in taking out a monstrous leviathan that is attacking the traffic of the Kingdom's shipping lanes, hoping to win the bounty placed on its head to ease his woes. Joining him on this adventure is Sophia Blake, a young lady of standing with a secret she and her father are desperate to keep from society, and the world at large. Unbeknownst to Sophia – or her father – the secret of her supernatural powers is already known by the Tallowman, the nefarious agent of an ancient evil, thought by many to be just a legend. His goal is to capture Sophia and her power for his master, at any cost.
The Game Bird is a swashbuckling, stand-alone tale of high adventure and romance, set in a beautifully realised world. Walsh's writing is rich in history and lore, which he uses to masterfully colour his world – never once letting the details overwhelm the story and to present us with vivid characters that leap off the page and into your heart. It is a rip-roaring romp blending the sensibilities of Georgette Heyer, Patrick O'Brian and George R R Martin in a page turning read that is sure to find a wide audience.
On a personal note I am disheartened that a book this good was unable to find a home with a traditional publisher. We are exceedingly lucky that Walsh did not give up his quest to bring his writing to the world and that the facilities of self-publishing are quiet comprehensive these days. I highly recommend this book, indeed such are his writing chops that I am sure I would recommend any book by Walsh. I cannot wait for further adventures with these characters – or any characters he cares to introduce – and stories set in this world.