Angel's Ink
The Asylum Tale's #1
By Jocelynn Drake
BUY IT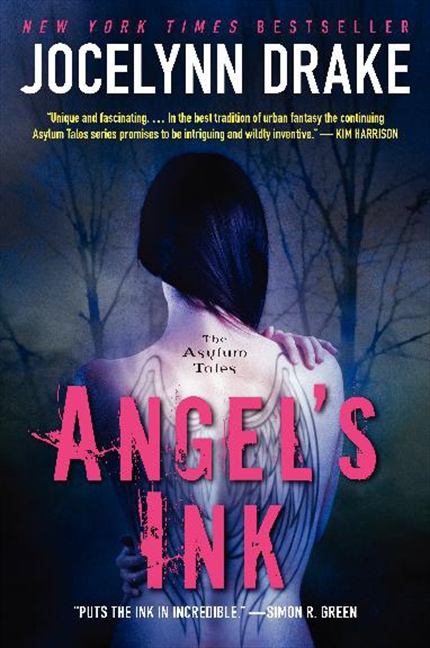 Buyer beware…Looking for a tattoo – and maybe a little something extra: a burst of good luck, a dollop of true love, or even a hex on an ex?
Head to the quiet and mysterious Gage, the best skin artist in town. Using his unique potions – a blend of extraordinary ingredients and special inks – to etch the right symbol, he can fulfill any heart's desire. But in a place like Low Town, where elves, faeries, trolls, werewolves, and vampires happily walk among humanity, everything has its price.
No one knows that better than Gage.
Turning his back on his own kind, he left the magical Ivory Tower where cruel witches and warlocks rule, a decision that cost him the right to practice magic. And if he disobeys, his punishment – execution – will be swift.
Though he's tried to fly under the radar, Gage can't hide from powerful warlocks who want him dead-or the secrets of his own past. But with the help of his friends, Trixie, a gorgeous elf who hides her true identity, and a hulking troll named Bronx, Gage just might make it through this enchanted world alive.
____________________________________________________________
I just finished reading the eNovella "Bronx" – a min-prequel to Drake's new Urban Fantasy series The Asylum Tales. And it was awesome.
I loved it.
Needing a comparison I'd say it's a heady mix of Ilona Andrew's Kate Daniel's series meets Jim Butchers Dresden Files – with Dresden coming out the winner but Kate Daniel's leaving a very distinct mark.
Seriously if you like the Butcher's Urban fantasy then you will like this.
Don't judge the  book by the cover.  Seriously. I have no idea what the marketers where thinking – as a (former) bookseller I think they've done the potential sales this series could have a huge disservice by draping it in a paranormal romance jacket. That's not to say that paranormal romance sales are to be sniffed at (hello Charlaine Harris and Sherrilyn Kenyon) but seriously??? Having just read the mini-prequel Bronx this series belongs on the selves next to the likes of Butcher's Dresden Files and Griffin's Matthew Swift books. I really hope the readers of of Urban Fantasy will cross the fence and give this a try because Jocelynn Drake rocks and I cannot wait to read more about Gage and his world.