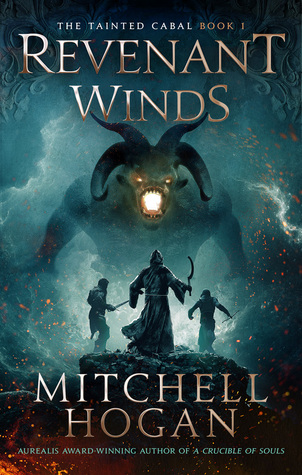 Revenant Winds
The Tainted Cabal Book One
By Mitchell Hogan
As a secret cabal schemes to awaken an evil thought defeated millennia ago, the lives of three unlikely heroes are fated to converge:
Aldric, a veteran priest and sorcerer, who seeks acceptance from the church that shuns him. On the brink of their approval, he receives a mission that brings him face to face with a long-buried evil.
Niklaus, master swordsman, and slave to his goddess, who plots to split the veil between life and death and ascend to become her equal.
Kurio, the runaway daughter of a noble family, now turned to thievery, who stumbles across a disturbing secret that binds her future to infernal designs.
Drawn toward a horrifying endgame by an unknown force, Aldric, Niklaus, and Kurio find themselves in a battle not only for their lives, but for the beliefs that have come to define them.
A wrong decision, an overreaching ambition, or the failure of an already tormented faith, is all it will take to plunge mankind into an eternal dark.
531 pages
Published by the author
Published on September 5th, 2017
Author's webpage
Buy the book
I purchased this book.
This review should have gone up aaaaaaaaaages ago. I have no idea how I got so side-tracked, other than to say I need to get into a better habit of posting on this blog!
I loved this book. It is a great start to a new epic fantasy series by Aussie Mitchell Hogan.
Told from three points of view I loved each character equally, and just when I thought Hogan was about to take a particular plot point too far, or fall into overkill, he changed gears and smashed through the sound barrier, ramping up the tension and throwing some hair-raising twists and turns into the plot.
The world building was fascinating – I want to know much more about the lore of this setting – but it was Hogan's execution of the story and the vibrancy of characters that had me turning the pages and kept me wanting more.
I have a book hangover. I need the next one now.