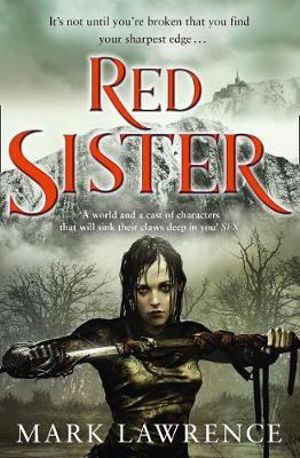 Red Sister
Book of the Ancestor 1
By Mark Lawrence
At the Convent of Sweet Mercy young girls are raised to be killers. In a few the old bloods show, gifting talents rarely seen since the tribes beached their ships on Abeth. Sweet Mercy hones its novices' skills to deadly effect: it takes ten years to educate a Red Sister in the ways of blade and fist.
But even the mistresses of sword and shadow don't truly understand what they have purchased when Nona Grey is brought to their halls as a bloodstained child of eight, falsely accused of murder: guilty of worse.
Stolen from the shadow of the noose, Nona is sought by powerful enemies, and for good reason. Despite the security and isolation of the convent her secret and violent past will find her out. Beneath a dying sun that shines upon a crumbling empire, Nona Grey must come to terms with her demons and learn to become a deadly assassin if she is to survive…
512 pages
Published by HarperCollins Publishers
Published on March 27, 2017
Author's webpage
Buy the book
I purchased this book.
I don't know why it took me so long to get around to reading this one. But omg – it was so good!
I have been a fan (of most) of Lawrence's work since 'Prince of Thorns' came out. And while this is very different, his ability to grip your attention, ring your heart with feels AND make it pound with excitement has not changed at all.
I also love the way he build magic systems. From my limited understanding it seems he plays with quantum theory and and eastern philosophy and it rocks.
I made the mistake of not having the second book ready to go when I finished this one so be you don't do the same. You will want book 2 as soon as you finish this one.
And yes, I have ordered book 2!