Kushiel's Dart
Kushiel's Legacy #1
By Jacqueline Carey
BUY IT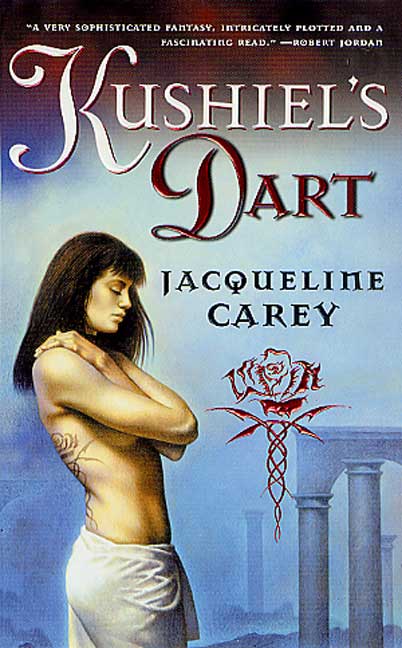 A massive fantasy tale about the violent death of an old age and the birth of a new one. Here is a novel of grandeur, luxuriance, sacrifice, betrayal, and deeply laid conspiracies.
Born with a scarlet mote in her left eye, Phedre no Delaunay is sold into indentured servitude as a child. When her bond is purchased by an enigmatic nobleman, she is trained in history, theology, politics, foreign languages, and the arts of pleasure. Above all, she learns the ability to observe, remember, and analyze.
Exquisite courtesan, yet talented spy, she may seem an unlikely heroine… but when Phedre stumbles upon a plot threatening her homeland, Terre d'Ange, she has no choice but to act.
Betrayed into captivity in the barbarous northland of Skaldia, and accompanied only by disdainful young warrior-priest, Phedre makes a harrowing escape and an even more harrowing journey, to return to her people and deliver them a warning of the impending invasion.
And that proves only the first step in a quest that will take her to the edge of despair and beyond.
____________________________________________________________________
Seeing the mainstream fiction world is still caught up in the Fifty Shades trilogy I thought I'd point out to those of you who might want to know, a genre equivalent (and much better written) saga of kink and sauciness that involves whips and chains – just like the other. But it's Kushiel's Dart is much more than that.  Truly.
On the back cover of this book is a quote from the main narrator/character of the tale: "When Love cast me out, it was Cruelty who took pity on me." and, regardless of what that might say about me, I was intrigued enough to pick up the book. I wasn't disappointed.
The story is set in an alternate, early Renaissance Europe; primarily in a pseudoFrance called Terre d'Ange.
In Terre d'Ange, a land of unsurpassing beauty and grace, considered a paradise on earth by its inhabitants, the art of the courtesan is an honoured profession held sacred by the Court of Night-Blooming Flowers and its thirteen Houses. Into this world is born Phedre, a child who is rejected from the house she's born into because she has a "flaw", a tiny red mote in one eye. Trained in the arts of graceful service she is discovered by nobleman Anafiel Delaunay, who recognizes her flaw for what it is; Kushiel's Dart, which marks her as an anguissette, one who is able to experience pain as pleasure.
She is taken into the Delauney's House where she is trained in politics and court intrigue, as well as the arts of courtesan, which gives her unfettered access to the nobles and powerbrokers of the realm when they are at their most vulnerable. While working as a spy for her Lord she stumbles across a plot that threatens the very foundation of her homeland. Betrayal and treachery sees her exiled into slavery and her loved ones killed, setting her feet on a path of vengeance and retribution that brings into play all of the skills she has been taught.
Carey weaves intricate plots within plots, and sets noble House against House in thrilling political manoeuvres that are truly Machiavellian. She presents a multilayered back story to support the weight of the world she's created with the sure hand of a master wordsmith; each character presented is fleshed out convincingly with their own multifaceted personalities; their loyalties and agenda's giving the reader a book that is truly character driven. There is action and adventure, swordplay and battles, sacrifice and redemption, romance and, given Phedre's role as a courtesan, sex – but to dismiss this book as something in the vein of Laurell K. Hamilton's later work would be to sell it far too short.
Carey shows a skill with the written word that is beautifully elegant and makes her work a joy to read. The sensual prose of her writing calls to mind the works of Tanith Lee and Storm Constantine, and her political machinations would give even George R.R. Martin's characters a run for their money. I highly recommend this book and it's sequels to lovers of great fantasy epics.