From the Archives
To Ride Hell's Chasm
by Janny Wurts
BUY IT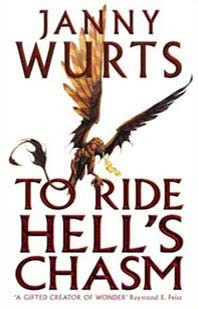 A stand-alone novel – written by Wurts while taking a break from the mammoth Wars of Light and Shadow series – this rollercoaster of intrigue and mystery is not a book you could call a light read. Set over the period of one week, so much happens in this novel that you question just how much you can fit into one day! The Kingdom of Sessalie is a land-locked mountain Kingdom that longs for an outlet to the sea. To this end, its King and Chancellor have arranged a marriage for Princess Anja with the High Prince of Devall, which will give Sessalie access to Devall's seaport, as well as offer a Royal Alliance between the realms. As Devall's High Prince arrives for his upcoming nuptials, the city opens its arms in welcome and wild celebration. But when Princess Anja suddenly disappears before her betrothal banquet, King Isendon assigns the task of recovering his missing daughter to two men – and for them to determine if she has been kidnapped or has simply run off.
The warriors charged with recovering the kingdom's beloved daughter are Taskin, Commander of the Royal Guard, and Mykkael, Captain of the Garrison. As the Crown's right-hand man, Taskin's competence and lifelong record of service to the Kingdom has earned him the respect and support of the court. Mykkael, though, is a stranger. He is unproven and new to the post of Captain and to the Kingdom itself; though he is a veteran soldier with a legendary reputation in the field of combat, his foreign breeding is held in suspicion by court society. As the princess's trail vanishes outside the citadel's gates, anxiety and tension escalate. Wurts' masterful use of language, rhythm and pace grabs hold of the reader and doesn't let go! Mykkael's investigations lead him to a radical explanation for the mystery, but he finds himself under suspicion from the court factions. It remains to be seen whether Commander Taskin's famous fair-mindedness will be enough to unravel the truth behind the garrison captain's dramatic theory (that the resourceful, high-spirited princess was not taken by force, but rather fled the palace to escape a demonic evil?)
Wurts writing is always multi-layered. On the surface, you have the intriguing mystery and the engaging adventure, as well as vivid descriptions and superb characterisation that create a real world and believable characters. Every character you encounter has their own insight and vision. Limited or experienced, their passionate views and choices are woven seamlessly into the tale, with high-stakes action and more than survival set on the outcome. Below the surface of this high fantasy adventure, there is the opportunity for the reader to explore – in as little or as much depth as they wish – larger questions that are as pertinent to our own society today as they are in this medieval fantasy setting: Where does the right and true course of the warrior lie, when the man bearing both sword and responsible knowledge must tread a collision course between the ethics of human justice and law, when not all things are as they appear and the disappearance of a young princess catapults a small kingdom into a crisis beyond precedent? This book is a fantastic read. Each time I re-read it, I pick up more. It is also the perfect place for anyone new to Wurts writing to jump on board.
Enjoy the ride!