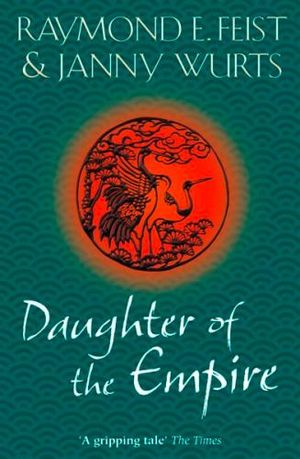 Daughter of the Empire
Empire Trilogy Book One
By Raymond E. Feist and Janny Wurts
Magic and murder engulf the realm of Kelewan. Fierce warlords ignite a bitter blood feud to enslave the empire of Tsuranuanni. While in the opulent Imperial courts, assassins and spy-master plot cunning and devious intrigues against the rightful heir. Now Mara, a young, untested Ruling lady, is called upon to lead her people in a heroic struggle for survival. But first she must rally an army of rebel warriors, form a pact with the alien cho-ja, and marry the son of a hated enemy. Only then can Mara face her most dangerous foe of all—in his own impregnable stronghold.
I come across quite a few readers looking for a book with the kind of noble house politics of George R.R. Martin's Game of Thrones; and I am always surprised that they haven't read the Empire Trilogy by Feist and Wurts because, when it comes to Machiavellian manipulations and politics, I haven't found a more enthralling read.
I guess the greatest difference between the two stories is that Martin's is set amidst a world reminiscent of medieval Europe, while the Empire Trilogy plays out in Feist's world of Kelewan, which is very reminiscent of feudal Japan – a world in which 'face' and 'honour' are the lifeblood of all etiquette and the bench mark of social standing. The playing of politics is called the 'Great Game' in the Empire and it is a vicious bloodbath of backstabbing and wheeling and dealing, where the Great Houses can fall and Lesser Houses rise to prominence. And if you cannot play the Great Game, you may find yourself stripped of all you hold dear, maybe even your life.
And it is at this extreme of the Game that we are first introduced to Mara of House Acoma.
Taking her final vows to enter Temple life, the Daughter of the Acoma finds her plans destroyed as she is informed that her family has died and she is the only surviving heir – if she does not take up the mantle of Ruling Lady, House Acoma, its servants and vassals, will all fall into ruin. Unable to turn her back on the ancient lineage of the Acoma, she leaves the Temple before her vows are spoken and returns to the devastated House that her family's enemies have left her. Without any of the formal political training her brother had received as future heir, Mara must rally the Acoma's depleted resources and protect her House against not only those who orchestrated the deaths of her father and brothers, but also those who would take advantage of the Acoma's weakened state. She must navigate a social and political minefield in a world where women are consorts, but rarely the Ruler of a noble House. Using her intelligence, wits and cunning, she slowly reveals she has a greater talent for the Great Game than any could have imagined.
Feist and Wurts have produced a masterpiece of fantasy that I view as a classic. This is a beautifully written book, the prose is fluid and descriptive enough to bring the world to life and the society has been painstakingly pieced together to seem at once familiar, yet alien, without taking away from character development or plot execution. Although this trilogy fits within Feist's larger Riftwar series, it can be read independently – however, you might find yourself intrigued enough to read more of the authors' solo work too.