The Wild Road
Karavans #3
By Jennifer Roberson
BUY IT
Alisanos, the deepwood, is more than just a forest…
…it is sentient, and predatory. Home to demons and worse, its mercurial boundaries can suddenly shift miles in any direction to encompass previously safe human lands – and those taken by the deepwood are forever changed.
Audrun, a human woman trapped within the forest, is reunited with her four children, only to learn that each has been marked by the deepwood's wild magic. And her newly born fifth child, captured by a winged demon, is still missing.  Audrun has sworn to find the infant, but can a mere human possibly hope to outwit the monstrous inhabitants of Alisanos…and the nightmarish deepwood itself?
_____________________________________________________
At last, at last! It's (almost) here at last!
I have been waiting for this book for a couple of years now. If you haven't tried Jennifer Roberson Karavan's series you are missing out. Originally it was planned to be a series of stand-alone books but these 3 really do need to be read sequentially.
They are bold, compelling book written by a master who doesn't waste words and weaves an amazing world without pages of info-dump… not that info-dump is bad, but Roberson amazes me who much of a world she can paint with just at the odd description of character or the things around them.
I can't wait!
Karavans
Karavans #1
By Jennifer Roberson
BUY IT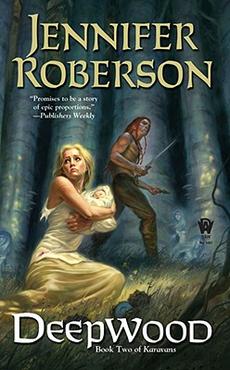 Deepwood
Karavans #2
By Jennifer Roberson
BUY IT