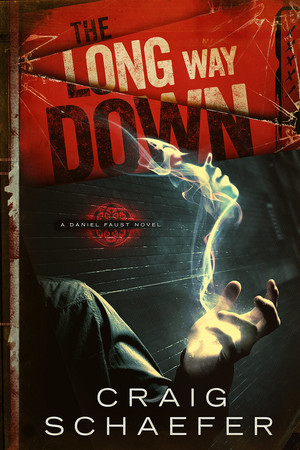 The Long Way Down
Daniel Faust Book 1
By Craig Schaefer
Nobody knows the seedy underbelly of Las Vegas like Daniel Faust, a sorcerer for hire and ex-gangster who uses black magic and bullets to solve his clients' problems. When an old man comes seeking vengeance for his murdered granddaughter, what looks like a simple job quickly spirals out of control.
Soon Daniel stands in the crossfire between a murderous porn director; a corrupt cop with a quick trigger finger; and his own former employer, a racket boss who isn't entirely human. Then there's Caitlin: brilliant, beautiful, and the lethal right hand of a demon prince.
A man named Faust should know what happens when you rub shoulders with demons. Still Daniel can't resist being drawn to Caitlin's flame as they race to unlock the secret of the Etruscan Box, a relic that people all over town are dying — and killing — to get their hands on. As the bodies drop and the double-crosses pile up, Daniel will need every shred of his wits, courage and sheer ruthlessness just to survive.
Daniel Faust knew he was standing with one foot over the brink of hell. He's about to find out just how far he can fall.
_______________________________
I first came across Schaefer's name with the inclusion of a more recent novel of his – Sworn to the Night – in the 2018 SPFBO.
Now, I am one of those readers who, on coming to an author with an extensive back catalogue, I has to start with the first. Especially as his website does advise that some of the books overlap through a shared world.
Luckily, I really enjoyed it! What's even better, is that he has written a lot of books. So, I am going to have quite a few books to read – and what bookworm doesn't love a large TBR pile?
As with most Urban Fantasy, The Long Way Down was written in first person. There was a time when I actively avoided first person books, and truth be told I can still find myself reluctant to pick them, but Schaefer writes with an assurance that belies this being a first novel. I was instantly captivate and really interested in learning more about Daniel and this world of Schaefer's world. In fact, I think the description on his sites says it best:
Las Vegas. It's a city of big winners and bigger losers, where fortunes tumble with a roll of the dice. Under all the glitz and sleaze, though, there's another Vegas: a city infested by monsters in human skin, drenched in occult corruption. It's the kind of place where a dash of black magic and a gun could be the only thing standing between you and the gates of hell. The kind of place a man like Daniel Faust calls home.

Faust is nobody's hero. He's a card-carrying villain by trade, a thief and sorcerer just trying to make a dishonest buck in Sin City. He doesn't have to go looking for trouble, though: trouble finds him. Surviving by his wits, he does his best to save the day (if he absolutely has to), save his own skin (preferably), and beat the odds on his way to the next big score.
Reminiscent of Butcher's Dresden Files, if a bit darker, The Long Way Down is a like a pulpy, noir detective novel – in the best possible way – with a shot of the occult. The action is thrilling and Schaefer's page turning skills are on point.
I am looking forward to continuing me reading journey into Faust's world and highly recommend it for lovers or urban fantasy in the P.I. Noir territory.