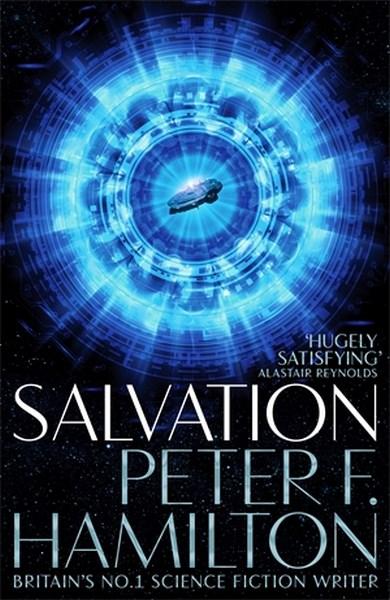 Salvation
The Salvation Sequence 1
By Peter F. Hamilton
Know your enemy – or be defeated

AD 2204
An alien shipwreck is discovered on a planet at the very limits of human expansion – so Security Director Feriton Kayne selects a team to investigate. The ship's sinister cargo not only raises bewildering questions, but could also foreshadow humanity's extinction. It will be up to the team to bring back answers, and the consequences of this voyage will change everything.

Back on Earth, we can now make deserts bloom and extend lifespans indefinitely, so humanity seems invulnerable. We therefore welcomed the Olyix to Earth when they contacted us. They needed fuel for their pilgrimage across the galaxy – and in exchange they helped us advance our technology. But were the Olyix a blessing or a curse?

THE FAR FUTURE
Many lightyears from Earth, Dellian and his clan of genetically-engineered soldiers are raised with one goal. They must confront and destroy their ancient adversary. The enemy caused mankind to flee across the galaxy and they hunt us still. If they aren't stopped, we will be wiped out – and we're running out of time.
544 pages
Published by Pan Macmillan
Published on September 11, 2018
Author's webpage
Buy the book
This book was sent by the publisher in exchange for my honest review.
__
Loved it!
When I first read that Hamilton was not returning to the Commonwealth universe in this, his new novel, I was really disappointed. I adore the Commonwealth and the stories he has written within it.
But this new novel is just brilliant.
It truly showcases what a creative genius, Hamilton is. From his ability to pull trends and social movements from our world today and to extrapolate them into what they could become, to his ability to twist plots and give his readers a story that is basically akin to a messed up Rubik's cube – which we then have the sheer joy of watching a master put back together before our eyes, to his understanding of science and its principles and just what could be on our horizon (I think R&D departments of Virgin Space, Tesla, Google, Apple and Samsung etc, need to be going through his work with a fine tooth comb for ideas because his novels are bursting with them).
This book has action, murder, mystery, space, science, far-future tech, human interest and detective work all rolled into one. It is fast paced, insightful and thrilling. An absolute joy to read. And I cannot wait for book two. Or for the audiobook to be released because I will be reading/listening to it again then!
You can buy it here