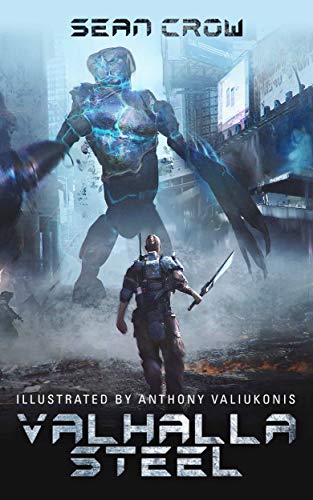 Valhalla Steel
By Sean Crow
Step into the dark future where creatures of myth clash in the back alleys of an uncaring city run by all-powerful corporations. Will Valhalla Steel rise to prominence or will they join the untold millions in anonymity? This is a collection of short stories following the members of Valhalla Steel, a gun-running clan of Vikings guided by their leader, Angus Jarlson. Caught in a turf war with chem-dealing Fae, Angus desires only two things: a future for his people and bloody vengeance against his foes.
116 pages
Published by Sean Crow
Published on August 20, 2020
Author's webpage
Buy the book.
I purchased this book.
I was a beta-reader for Sean on this book, but believe me, if I did not love every page, then I would not be suggesting that anyone read it. If I don't like a book, I don't say anything (unless you are a friend of mine then chances are you will hear a lot about what I don't like!)
Valhalla Steel is fast paced, action-packed, and wonderfully realised in both the sci-fi and fantasy camps.
It is a collection of stories that follow the characters of the Clan/gang 'Valhalla Steel' as they seek a new home in a dystopian-like setting of the future, where magic and technology walk hand in hand.
Drug-dealing fae, trolls, werewolves, ghosts-in-the wires, rune magic and the religion of the old gods, this world – and book – has it all.
I can't wait to read the next story set in this universe.
I highly recommend Valhalla Steel.