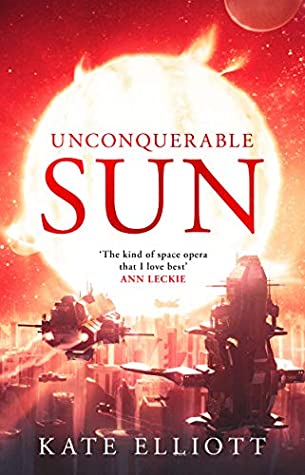 Unconquerable Sun
The Sun Chronicles Book 1
By Kate Elliott
It has been eight centuries since the beacon system failed, sundering the heavens. Rising from the ashes of the collapse, cultures have fought, system-by-system, for control of the few remaining beacons. The Republic of Chaonia is one such polity. Surrounded by the Yele League and the vast Phene Empire, they have had to fight for their existence. After decades of conflict, Queen-Marshal Eirene has brought the Yele to heel.
Now it is time to deal with the Empire. Princess Sun, daughter and heir, has come of age.
In her first command, she drove a Phene garrison from the beacons of Na Iri – an impressive feat. But growing up in the shadow of her mother – a ruler both revered and feared – has been no easy task. While Sun may imagine that her victorious command will bring further opportunity to prove herself, it will in fact place her on the wrong side of court politics. There are those who would like to see Sun removed as heir, or better yet, dead. To survive, the princess must rely on her wits and companions: her biggest rival, her secret lover, and a dangerous prisoner of war.
528 pages
Published by Head of Zues
Published on October 1st, 2020
Author's webpage
Buy the book
This book was sent by the publisher via Netgalley in exchange for my honest review.
I've been growing a bit bored of epic fantasy recently and reaching for some space opera that was not purely military sci-fi. Something that has the expansive world-building feel of say Game of Thrones, with great characters, gripping intrigue, cool tech and was 'alien' enough that earth – if there ever was such a place in this universe – is a so distant a memory as to be irrelevant.
Unconquerable Sun is what I have been looking for. I loved this book. It is fantastic.
Now I have read Kate Elliotts other works before, I was even a beta-reader for her in the distant past when I worked at a genre specialist bookshop – and I enjoyed those books, but I think this is my favourite.
I first heard she was writing it on Twitter when Kate described it as a gender swap on the story of Alexander the Great, set in space. Sounds cool, right? Well, you have no idea.
Imagine Steven Erikson's Malazan books in a sci-fi setting, and you get an idea of how dynamic the world-building is. Genetically engineered strains of humanity take the place of aliens in this universe, and I much prefer that to green-eyed… people. It's a refreshing change to imagine it's our advances in science and technology that creates different classes of humans, rather than finding 'life' in other parts of the universe. Then the whole emancipation of gender, gender-roles and titles (although, if I am honest, at times confusing) further stretches the reader's boundaries and indeed presents a universe that is very much a possibility. Elliott brings such a breath of fresh air to the genre that it sets this book a benchmark that other sci-fi authors should definitely take note of.
Even if you only have a passing understanding of the story of Alexander the Great, you will still have an idea of the scope of this novel. Unconquerable Sun is exciting, fast-paced epic, expansive and most of all, relevant. If you are looking for Peter F. Hamilton sci-fi by way of Steve Erikson, mixed up with some of Ann Leckie's brilliance and Anna Smith Spark's gritty edge, then look no further. Unconquerable Sun is it.