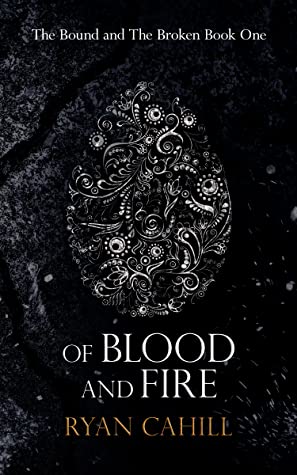 Of Blood and Fire
The Bound and the Broken #1
By Ryan Cahill
Born in fire. Tempered in blood.
Epheria is a land divided by war and mistrust. The High Lords of the south squabble and fight, only kept in check by the Dragonguard, traitors of a time long past, who serve the empire of the North.
In the remote villages of southern Epheria, still reeling from the tragic loss of his brother, Calen Bryer prepares for The Proving—a test of courage and skill that not all survive.
But when three strangers arrive in the village of Milltown, with a secret they are willing to die for, Calen's world is ripped from under him and he is thrust headfirst into a war that has been raging for centuries.
There is no prophecy. His coming was not foretold.
He bleeds like any man, and bleed he will.
541 pages
Published by Ryan Cahill
Published on March 20, 2021
Author's webpage
I pre-ordered this debut after reading 'The Fall', a prequel novella that Cahill gave to subscribes of his newsletter.
'The Fall' really impressed me. It was awesome, and it has excited me as to what Cahill might produce in the future.
'Of Blood and Fire' is a well constructed tale of traditional epic fantasy by an exciting new voice.
While I have to admit that I thought the two shorts in 'The Fall' better held my attention, there is much to enjoy in 'Of Blood and Fire' – especially if you are a fan of The Wheel of Time, Eragon or A Game of Thrones.