King of Thorns
Broken Empire Book 2
By Mark Lawrence
BUY IT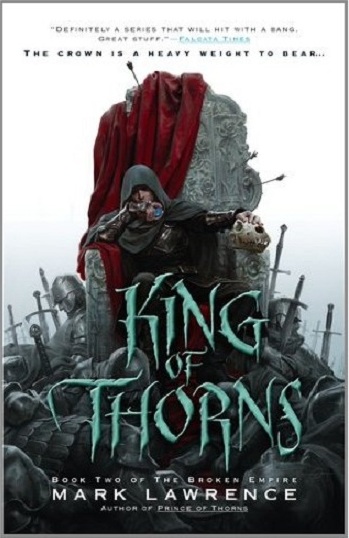 The boy who would be King has gained the throne…


Prince Honorious Jorg Ancrath vowed when he was nine to avenge his slaughtered mother and brother—and punish his father for not doing so. When he was fifteen, he began to fulfill that vow. Now he is eighteen—and he must hold on by strength of arms to what he took by torture and treachery.
King Jorg is a man haunted: by the ghost of a young boy, by a mysterious copper box, by his desire for the woman who rides with his enemy. Plagued by nightmares of the atrocities he committed, and of the atrocities committed against him when he was a child, he is filled with rage. And even as his need for revenge continues to consume him, twenty thousand men march toward the gates of his castle. His enemy is far stronger than him. Jorg knows that he cannot win a fair fight.
But he has found, in a chamber hidden beneath the castle, ancient and long-lost artifacts. Some might call them magic. Jorg is not certain—all he knows is that the secrets they hold can be put to terrible use in the coming battle…
Mark Lawrence is swiftly cutting a bloody path towards the top of my favorite authors list. Granted the swathe he is carving is more elegant and graceful than the ruthless hack and slash favoured by his … driven… creation Jorg, yet it works just as well.
I reviewed Lawrence's first book sometime ago, and I was quite surprised that I enjoyed it as much as I did, given that Jorg can be best described as psychotic troubled. And Lawrence doesn't shy away from clearly showing the reader the darker aspects of his main character, or from the violence he lives with and deals out on more pages than not. However I find I love his work despite these things that would normally turn me off.
The second book in the Broken Empire series (a trilogy I think but I really hope it's more than that because, ya know, these books are too short!) picks up where we left Jorg at the end of book one and four years after. Lawrence does a nifty little dance weaving narratives of what is essentially the past, and the present, together into a cohesive thread that traces the journey Jorg has been on since his victory at the conclusion of Prince of Thorns and how he finds himself with an army at his gates 4 years later.
Again I have been captivated by Lawrence's world building and the seeming ease with which he paints the picture of the lost Builders and the pieces of civilization they left behind, a world both familiar and different to the reader, and how he writes Jorg who is at once both repellant and so sympathetic that you root for him despite the atrocities he and his merry band of bandits commit.
I love this series; it is epic in scope and strangely economic in depiction. When I open the pages I am lost to the world and I can ask nothing more of any author who's work I pick up – but in this I case I shall.
Mr. Lawrence – I need at least 200,000 + words on the next book. And another four volumes to the series.
Please?