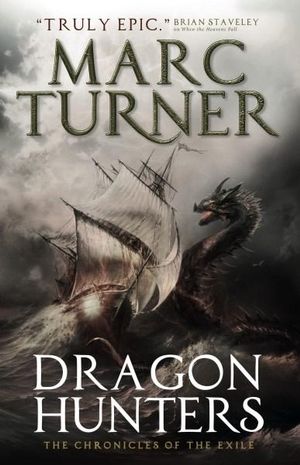 Dragon Hunters
Chronicles of the Exile
By Marc Turner
Once a year on Dragon Day the fabled Dragon Gate is raised to let a sea dragon pass into the Sabian Sea. There, it will be hunted by the Storm Lords, a fellowship of powerful water-mages who rule an empire called the Storm Isles.
Emira Imerle Polivar is coming to the end of her tenure as leader of the Storm Lords, but she has no intention of standing down graciously. As part of her plot to hold onto power, she instructs an order of priests known as the Chameleons to sabotage the Dragon Gate. There's just one problem: that will require them to infiltrate an impregnable citadel that houses the gate's mechanism a feat that has never been accomplished before.
But Imerle is not the only one intent on destroying the Storm Lord dynasty. As the Storm Lords assemble in answer to a mysterious summons, they become the targets of assassins working for an unknown enemy. And when Imerle sets her scheme in motion, that enemy uses the ensuing chaos to play its hand.
559 pages
Published by Titan Books
Published on February 9th, 2016
Author's webpage
Buy the book

I purchased this book.
Those of you who have read the preceding volume in this series – When the Heavens Fall – would be forgiven for wondering why this books has none of the characters from book one in it. The only connection between books one and two is the shadowy background presence of the emperor of Erin Elal, a character from the Guardians (like Luker in book one) and one scene with the Goddess known as the Spider.
So if you haven't read book one you can start here and go back. Or just keep moving forward.
I've read some reviews that When the Heaven Fall as more 'traditional fantasy and Dragon Hunters as more grimdark fantasy. I don't see that at all. In my opinion Turner is writing neither traditional or grimdark fantasy, but it certainly epic fantasy.
Anyone who has read Steven Erickson's Malazan Books of the Fallen – or has wanted to but been unable to get past Erickson's steep learning curve – could easily find a home reading Turner's work, which I find to be incredibly similar to the Malazan books but much more accessible. Don't get me wrong, Turner is not copying Erickson – his story is very different and his world almost feels more like Essos, with some Westeros thrown in (Game of Thrones), but has a lot more magic and a meddlesome, greek-like pantheon of gods.
It also has a huge scope. There is a lot floating around in the background. This doesn't detract from the main story, which focuses very much on the characters and their struggles and ambitions, but rather adds weight to realms and political machinations that are stage the tale is set upon. Also it is at the end of this novel that you finally get an idea of just what the series title 'The Chronicles of the Exile' might be referring to – and I am eager to jump into book 3 to find out more!
Epic in scope and history, Turner writes books filled with characters who jump of the page and has a scene of pace and world-building that ranks him amongst the best fantasy writers around today in my books. This perfect for readers of Erickson, Martin and Staveley.