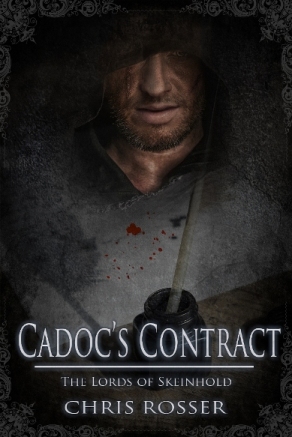 Cadoc's Contract
The Lords of Skeinhold, Book 0
By Chris Rosser
A warrior returns home from a holy war, burdened by a blood debt to the gods. With the world he left behind in tatters, he must reconcile his role in his family's undoing.
Cadoc wanted more than the life of a simple farmer. So, when Artur, Duke of Kas Mendoc raised his banner, Cadoc answered the call, marching south to enlist in a great crusade against the Oskoi. He travels to a distant land and carves his name in the bodies of the dead.
Yet Cadoc has a secret, a contract made with the gods to give him the strength he needs to survive this bloody war. One hundred souls — a debt of blood to a hungry god. But disaster strikes and Cadoc flees for his life. Can he face the men he left behind and account for those he killed? Has he paid his debt, or was his soul part of the price?
95 pages
Published by Chris Rosser Publishing
Published on March 1, 2019
Author's webpage
Buy the book
I purchased this book.
If you read my review of Rosser's debut novella, Mistress of Skeinhold (which chronologically is the sequel to this book) you might recall that I felt it echoed some of Goethe's The Sorcerer's Apprentice, I could easily say that this novella has the hallmark of a Greek tragedy and makes me wonder if Rosser has had a classical education. Don't get me wrong, he's not copying anyone, it's just a timeless quality to his stories that evokes a half forgotten dream, or a memory of childhood. And to my mind that is a brilliant!
In this novella we are introduced to Cadoc, the second son of a minor noble house, who is not content with ploughing the fields of the fertile Valley Cae for his brother, the Lord of Skeinhold. So, he decides to enlist as a mercenary with a neighbouring Duke and march off on crusade in a far kingdom, seeking his own fortune, and to recreate the adventures of his grandfather. When reminded of a supernatural entity in the mountains around his home, Cadoc seeks a bargain with it ,as did his grandfather before him. But as the entity warns, the gods thirst, and dealing with such creature is never as straight forward as humankind like to believe. Cadoc's Contract is the tale of that devils' bargain and the price that Cadoc ultimately has to pay to appease the gods.
It's hard to pin Rosser down stylistically for that exercise of comparing his work to any other author on the market today. In fact, I don't think you can. There is that 'classic' feel to the core of his tales but the stories themselves are new and confidently crafted. He is definitely blazing his own trail. If I had to offer any comparisons, I might suggest one to Katharine Kerr in her Deverry novels, but I think that is likely the Celtic/Welsh stylistic influences in some of the localised world building coming through. Rosser's work is fresh and compelling and with a timeless quality that will bolster his work against the test of time.
Cadoc's Contract is an enticing read that further cements Rosser – for me – as one of the new breed of rising stars on the Aussie Spec-fic scene. There is a very visceral feel to Rosser's writing, all the senses are brought into play and he doesn't shy away from the grittier side of human physiology – it's not overdone by any means, but it adds a touch more realism that heightens the experience.
With a sure and confident hand Rosser weaves his tale with the same skills as the mystical 'weavers' in his world, enthralling the reader with strong and heartfelt characters, engaging dialogue and heart pounding fight scenes.
Cadoc's Contract, and The Lords of Skeinhold series, is something all lovers of good fantasy should have on their radar. Chris Rosser is an author to watch.