NOVELS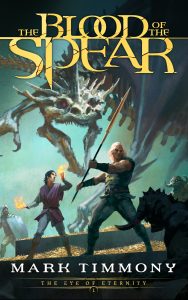 The Blood of the Spear
The Eye of Eternity Book One
by Mark Timmony
Two brothers. One prophecy. A world in peril.
When Kaiel loses his chance to become part of the legendary Daemon Hunters, joining the Bronze Guard mercenaries seems like the logical alternative. It is an opportunity to put his training to use and, more importantly, as the company is currently in the employ of Prince Alesandr, it will allow him to keep an eye on his younger brother, Darien, who's determined to follow his dream of becoming a Ciralys magic-user.
But the broken continent of Athmay still bears the scars of the war between the Summoners some three-thousand years ago, and an unexpected battle with a daemon – a remnant of that ancient war – reveals the brothers' connection to a forbidden bloodline. Soon they find themselves on the run from the prince, daemonic hordes, and a prophecy that could break the world anew.
You can order the ebook of The Blood of the Spear here:
Amazon
Booktopia (for Aussie readers)
And you can find physical copies here:
Amazon – Trade Paperback or Hardback
Booktopia – Trade Paperback or Hardback
The Towers of the Stars
The Eye of Eternity Book Two
Currently writing
SHORT FICTION

Starwell – sitting at approximately 8000 words and also going through re-writes/edits.
Another tale set within the universe of The Eye of Eternity, Starwell follows a young girl as she flees her home and her people, and unwittingly steps onto a stage larger than she could possibly imagine.
Vignettes